Revit 3D Modeling Company in USA Facilitating Accurate Modelling, Coordination & Fabrication
3D Building Information Modeling services utilize BIM software, such as Revit, Navisworks, ArchiCAD, AutoCAD, to create 3D models of buildings design. The digitized model contain detailed information about architectural, structural, MEP , Facade building components including geometry, material estimation and other important data. Revit 3D modeling services can be outsourced to experienced 3D BIM Modeling company for customized architectural design, engineering, construction, and facility management with specified BIM LOD.
Architectural design: Drawings, 2D  3D models of floor plans, elevations, sections, and details for interior, exterior.
Structural engineering: Structural drawings, 3D models including foundations, beams, columns, and walls.
MEP (mechanical, electrical, and plumbing) engineering: Creating 3D models of building systems, including HVAC, plumbing, and electrical systems.
Construction documentation: Creating detailed construction documents, such as shop drawings, schedules, and material takeoffs.
Clash detection: Identifying and resolving potential conflicts between different building systems and components before construction begins.
Facility management: Creating 3D models of buildings for use in facility management, including space planning and maintenance schedules.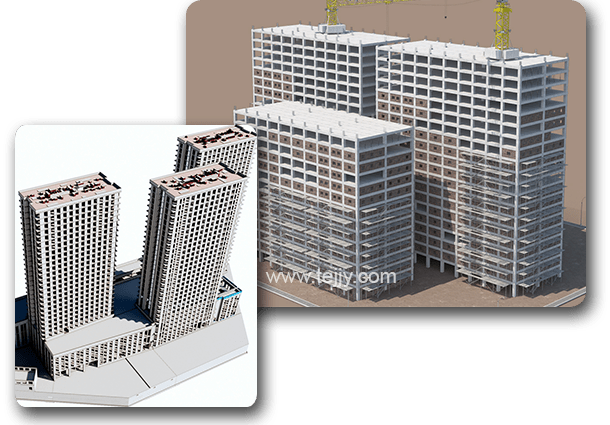 Our Revit 3D Modeling Services across USA
BIM modeling for MEP/HVAC systems | Parametric Modeling | Mechanical Duct & Duct fittings modeling | Plumbing Layout Modeling | BIM coordination & Clash detection | Scan to BIM of MEP/HVAC systems.
Curtain wall detailing & Structural glazing Unitized | Semi-unitized systems | Shop front drawing | Internal & External Doors & windows detailing | Canopies | Glass Stairs & Bridges | Cast Aluminum/ Glass Railings & Balustrades | Steel & green façade detailing.
Advantages of 3D Modeling with BIM
Why choose Tejjy Inc. for BIM Modeling Services?
Flawless designing of images, sketches, concepts, and shop drawings through 3D BIM Modeling.
Improved Interior and Exterior work through 3D Architectural Visualization adopting 3d BIM modeling software like Revit and V Ray.
Photorealistic renderings through 3ds Max.
Applying colors, images, and textures along with carving and texturing details.
Do you have any Queries?
You can reach us at 202-465-4830 or via email at info@tejjy.com or send us a business query here.
FAQ
The price of developing a 3D BIM model is determined by a number of criteria, such as the size and complexity of the building, in addition to the level of detail (LOD) that is required. Therefore, it will be difficult to provide a quotation prior to having a conversation regarding the project.
3D CAD Modeling is a process which is used mainly for designing a 3D model of a building. But it is not an interoperable and intelligent model like a BIM model. And it is not as easy to use for building construction and operation like a BIM model.